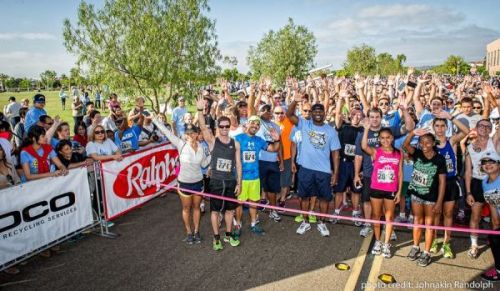 2nd Annual EDCO LaDainian Tomlinson 5K & One Mile Kids Fun Draws Crowd over 2,700
Jesus Montiel wins with time of 16:39



San Diego – The 2nd Annual LT 5K Walk and Fun Run presented by EDCO drew a crowd estimated at more than 2700 with approximately 2200 participants earlier today at NTC Park at Liberty Station.
Jesus Montiel, from San Diego, won the race with a time of 16 minutes,39 seconds (16:39). The top female finisher was _Carol Mancini who finished in 21 minutes and 47 seconds (21:47).
 "I would like to thank the San Diego community for coming to support this year's 5K," Tomlinson said.  "With the amount of people here and the energy they had, I felt as if I was part of a team again. We really came together today to raise money and awareness to support our youth thorough for the Tomlinson's Touching Lives Foundation."
The Tomlinson's Touching Lives Foundation engages in a number of programs designed to promote educational, social and cultural awareness and to promote positive self-esteem in children to enhance the lives of families and communities.
Tomlinson received support not only from the community but from several celebrities in attendance at today's race including Jason Verrett,Hank Bauer,Brandon Oliver and DJ Adams. All of the Chargers in attendance as well as LaDainian, all signed autographs for the fans.
The overall top finishers included:
Male:
◦1st place –Jesus Montiel (16:39)
◦2nd place – Daniel Deloe (16:55)
◦3rd place –Aaron Batiste(17:24)
Female:
◦1st place – Catherine Roberts (21:54)
◦2nd place – Theresa Hoff  (22:11)
◦3rd place – Lori Preston (22:12)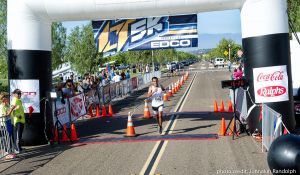 2014 LT5K Champion Jesus Montiel
Photos by Amy Kachinsky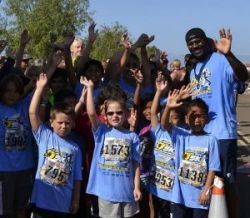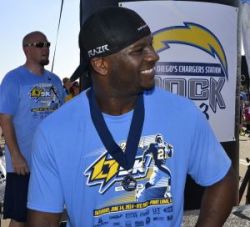 Kids Fun Run participantss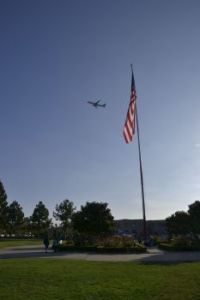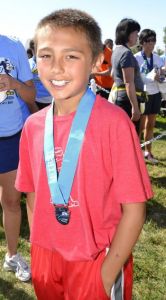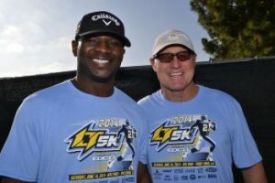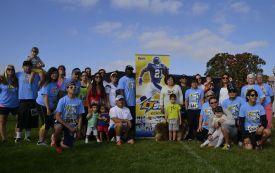 LT and our emcee Hank Bauer                                                                                 Thank you EDCO, our title sponsor
Highlights from the LT5K included:
Inaugural One-Mile Kids 1-Mile
An Autograph booth with LaDainian Tomlinson and current/former San Diego Chargers including: Jason Verrett, Hank Bauer, Brandon Oliver and DJ Adams
Kids Fun Zone Sponsored by L.B. Jumpers Express featuring bounce houses, games and contests
Military Apprecition Tent sponsored by Azusa Pacific University
A complimentary food court featuring foods and drinks from Coca Cola, Ralphs, Arctic Zero, Suja Juice, Chick-Fil-A, Panera   Bakery - Hillcrest & Liberty Station, Pop Chips, Einstein Bros. bagels and Fitzee Foods
On-site information from numerous companies such as: Cooking 4 Life, Easy Turf, Snug Pet Resort, Tango Tab and Deuce Brand Watches
A Special Thanks to our sponsors: EDCO, Azusa Pacific University, Roadrunner, Suncraft Solar, L.B. Jumpers Express, SeaWorld, Coca Cola, Ralphs, Oggi's. And our media partners- Fox Sports San Diego, UT San Diego, Reaceplace San Diego, XTRA Sports, Rock 105.3, KGB, KOGO 600, VAVI and Get 1 Free Magazine.