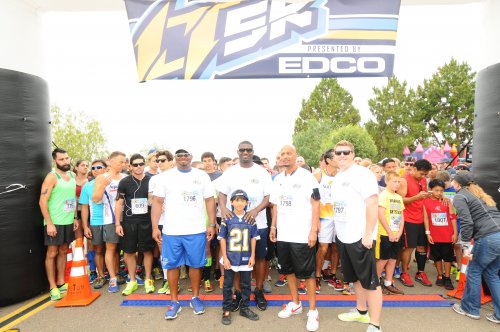 LT5K PRESENTED BY EDCO - SATURDAY, JUNE 15
OVERALL RESULTS BY SAN DIEGO TRACK CLUB
AGE GROUP RESULTS BY SAN DIEGO TRACK CLUB
Photo Requests: Photo requests should be directed to JR@AREventPhotography.com
Inaugural LT 5K presented by EDCO raises money for Tomlinson's Touching Lives Foundation
The Inaugural LaDainian Tomlinson 5k presented by EDCO, which was held June 15, took place at the gorgeous NTC Park at Liberty Station in Point Loma, CA. Thousands of runners and spectators were in attendance to show their support for Tomlinson and his cause, the Tomlinson's Touching Lives Foundation, which will use proceeds from the event to help fund two programs. LT Learning Centers makes it their mission to upgrade technology, equipment, and environment in after school facilities for children so they have a safe place to study and learn, and LT's Helping Hands Program will provide healthy food in backpacks to children at two schools on the free or government-reduced lunch programs every Friday during the school year. Current and former San Diego Chargers Hank Bauer, Michael Hill, John Carney and David Binn were also in attendance, signing autographs with LT at the autograph booth after the race to show their support for the cause.
Peter Denton wins Inaugural LT 5K
Finishing with a time of 16 minutes and 19 seconds (16:19), 28 year-old San Diegan Peter Denton won the Inaugural LT 5k by 38 seconds over 21 year-old Eddie Ramos. He then donated his winnings to bone marrow transplant recipient Bernard Llave of Cardiff, CA. The top female finisher was 22 year-old Nihal Kayali from La Jolla, who finished in 17 minutes and 5 seconds (17:05). Race host LaDainian Tomlinson finished the race in 24 minutes and 4 seconds (24:04).
Other highlights from the 5K:
Complimentary Food Court – FITzee Foods, Chick-Fil-A, Slater's 50/50, Noodles & Co., Nothing Bundt Cakes and Arctic Zero provided an array of food samples for runners, walkers, and spectators
Kids Fun Zone - featuring bounce houses from L.B. Jumpers Express, games and contests
Autograph booth featuring current/former Chargers Hank Bauer, Michael Hill, John Carney and David Binn
Silent auction featuring signed memorabilia from former Chargers and local celebrities, tickets to Legoland and more
LT 5K t-shirts:
If you are interested in purchasing a LT5K t-shirt please e-mail a check payable to Integrated Sports Marketing for $10 ($10 includes shipping & handling). Checks should be mailed to:
LT 5K - c/o Integrated Sports Marketing, 8909 Complex Drive, Suite A, San Diego, CA 92123
About the Tomlinson's Touching Lives Foundation:
The Tomlinson's Touching Lives Foundation engages in a number of programs designed to promote educational, social and cultural awareness and positive self-esteem to enhance the lives of children, families and communities.
For more information, please visit the foundation's website at http://www.ladainiantomlinson.com/foundation.html
Photo by Tony Amat, AR Event Photography